For many people, the opportunity to decorate a large, palatial home is a dream come true, with so much space to decorate. But what if you live in a modest one bedroom or a miniscule studio apartment?
You can still decorate and design an apartment that's every bit as chic.
Think of it as a chance to be creative and flex your decorative muscle! It's a unique challenge, to be sure — wanting to create a comfortable beautiful home in tiny quarters. But it's totally possible!
The best way to make the most of your small space is firstly, to clean, organize and declutter your space. Take advantage of any wall space and use a soft color palette. White is an easy choice to make, but if that's too stark, go with gray, lavender, periwinkle or cream. Using  soft colors like these helps to give the illusion of openness and space, plus it makes decorating with accessories that much easier.
Make the most of your small space with these clever, stylish tips!
Image Source
A small space doesn't mean your furniture has to be small. In fact, you'll get more oomph by decorating around one bold piece. It can be a statement sofa or chair, an accent wall or a gorgeous, light-reflecting chandelier.
Image Source
Using a monochrome color palette in soft whites, grays, etc. creates the illusion of openness.
Image Source
Multi-tasking furniture is key when you're living in a small space. Open bookshelves are always popular because they're great for storage, decoration and they act as room dividers. If you live in a studio apartment, set one up around your bed to give an air of night-time privacy. If your place is a little bit bigger, set it up between your kitchen and living room and you can use one to hold your dishes and your books and other media!
Image Source
One of the best tips for decorating your small space is the credo that 'less is more.' There's no room for clutter or junk, literally, so if you can't make use of it, then you don't need it.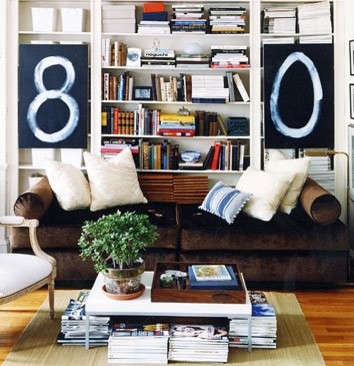 Image Source
On the other hand, for things you DO need, make sure to store them away when you don't need them. Try and look for furniture pieces that have built-in storage if you need a lot of storage space.
Image Source
A big challenge with living in a small apartment or a studio is that everything is out in the open, there aren't any built-in rooms – no bedroom, living room, dining room, etc. You can work around that by creating dividers using area rugs and runners to delineate different 'rooms.
Image Source
Be sure to take advantage of your wall space.  You can use your walls for super chic clothing storage or book storage. This is especially a great idea for your home office: get rid of any potential desk clutter, by storing files and papers on the wall in chic binders.
Image Source
Mirrors are a great way to open up your small apartment by reflecting light. If you can, hang mirrors across open windows so that when your high curtains are open during the day, the light hits them in such a way that it creates space.
Image Source
Finally, using rounded or curved furniture and rugs is another way to create a little more space in your studio. Removing sharp edges can make things feel less weighty and severe.